Whispertherm® Integrated Thermal Recovery Unit – Overview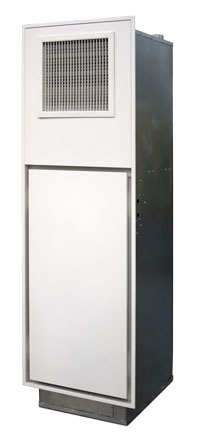 Whispertherm® brings together Whalen's field-proven Whisperline® or Whisperpack® products with the means to deliver freshly-conditioned outdoor air.
The Whispertherm® integrated thermal recovery unit benefits the environmentally conscious owner by efficiently introducing the outdoor air into the occupied space. Rather than directly discarding exhaust air from the occupied space, its energy is transferred to the incoming fresh air. Less energy is required to bring this fresh air to the indoor conditions.
Ideal for New Construction and Renovations – Both Low-Rise and High-Rise
True to our commitment to offer flexible products that meet the design of the building rather than forcing conformity around product limitations, the Whispertherm® unit may be applied to a variety of building designs.
When combined with our Whisperline® product line, an efficient reverse cycle heat pump effectively conditions the occupied space year-round.
When combined with our Whisperpack® product line, owners benefit during the heating season by use of a hydronic heating air coil rather than reversing the refrigerant cycle. This allows for additional energy savings by turning off the compressor and diverting the condenser water to the air coil.
---
Benefits

Technical Data

Literature
Certified Performance
All Whalen products undergo an extensive internal design procedure and are tested in our state-of-the-art psychrometric laboratory. Each product is independently tested and has AHRI Certified performance, meaning you can rest assured that our products will perform as expected.
Integrated Energy Recovery Module
Our integrated energy recovery module is fully removable for easy maintenance and capable of providing fresh air to the occupied space as well as exhausting multiple bathrooms.
Safe, Reliable Operation
Integrated controls provide freeze protection for the heating and cooling system as well as the energy recovery module. Built-in dampers eliminate wind or stack effect to ensure reliable ventilation rates.
Indoor Air Quality (IAQ)
Whispertherm™ units improve indoor air quality by providing fresh air to your occupied space. Each filter is washable and is standard with anti-mold, fungus, and bacteria protection.
Constant Fresh Air Flow
Each unit is programmed for a minimum constant air flow to provide the required outside air. Optional decorative wall controls provide intermittent high speed exhaust flow from one or two remote locations.
Multiple Ventilation Rates
Each energy recovery module is shipped with a factory-set ventilation rate to balance the supply and exhaust air selected.
Control Valves
The Whispertherm™ unit uses two two-way valves for variable-speed pump systems.
Cabinet
Galvanized monocoque construction: Designed to handle the rigors of installation while providing long-term performance.
Refrigeration Chassis
Versatile removable-floating design with insulated compressor compartment and vibration isolation.
Hydronic Heating Coil
The Whispertherm™ unit uses either a two-row or three-row integral hydronic heating air coil.
Water Hoses
Connecting the chassis to the supply and return water piping: Isolates sound from the building piping system.
EC Motor
Constant torque EC motors come standard, providing five available motor speed settings and maintaining a constant motor torque as external static pressure in the system increases. Constant air EC motors are optional on sizes 04 - 08.
Drain Pan
Internal stainless steel design with P-trap style rubber drain line.
Thermostat
Digital low-voltage thermostat: Plug-in or remote mounted with manual or automatic changeover.
Acoustical Panel
Flush-mounted design: Dampens sound while permitting filter removal without tools. Integrated design allows access to both the energy recovery module and the refrigeration chassis. Multiple grille sizes available. Filters are MERV rated.
Unit Performance Testing
All units are individually tested during the production process to ensure trouble-free start-ups and reliable service.
AHRI Certified

Whispertherm® Integrated Thermal Recovery Unit with Whisperline® Chassis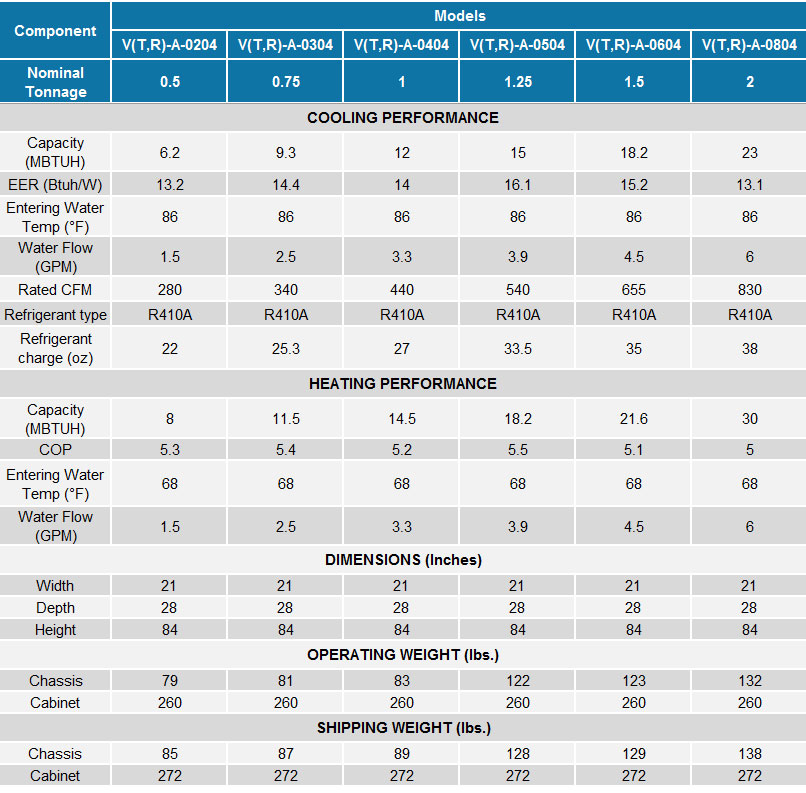 Whispertherm™ Integrated Thermal Recovery Unit with Whisperpack® Chassis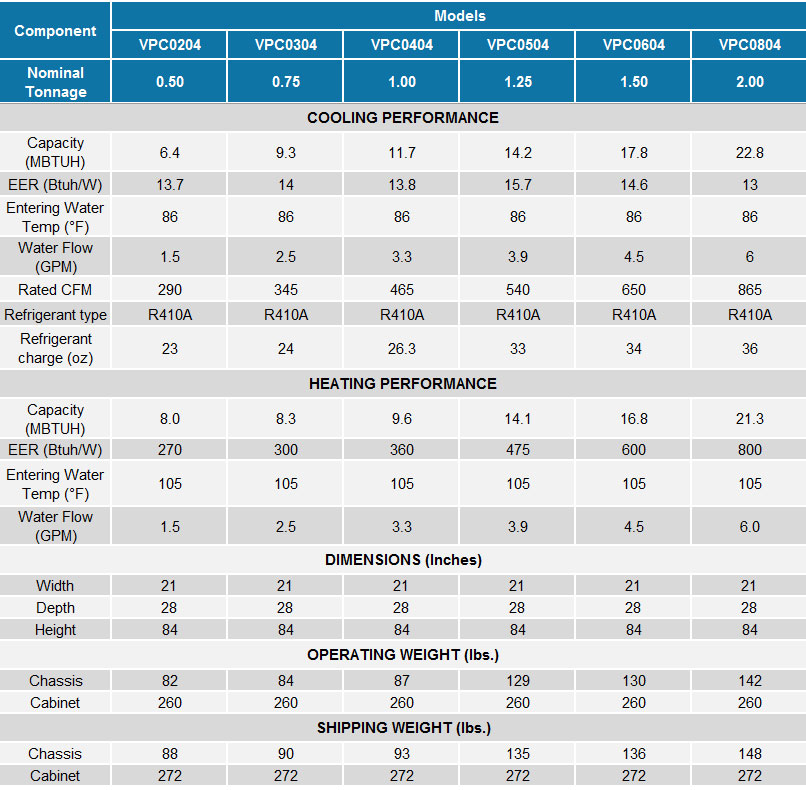 ---
Sales Brochures
---

Commercial Product Line Brochure


Water Source Heat Pump Product Guide

Whispertherm® with Whisperline® Chassis Brochure

Whispertherm® with Whisperpack® Chassis Brochure
Cut Sheets
---

Whispertherm® with Whisperline® Chassis Cut Sheet

Whispertherm® with Whisperpack® Chassis Cut Sheet
Design Guides
---

Whispertherm® with Whisperline® Chassis Design Guide

Whispertherm® with Whisperpack® Chassis Design Guide
Installation and Operation Manuals
---

Whispertherm® with Whisperline® Chassis

Whispertherm® with Whisperpack® Chassis
Product Specifications
---

Unit Specification – Whispertherm® Water Source Air Conditioner with Thermal Recovery Unit (TRU) and Hydronic Heat


Unit Specification – Whispertherm® Water Source Heat Pump with Thermal Recovery Unit (TRU)