Whalen Core Values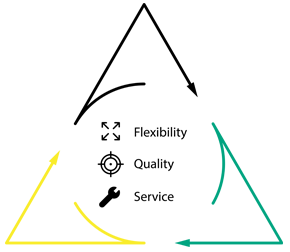 At The Whalen Company, our core values define who we are and guide every decision we make. Flexibility, Quality, and Service are the values around which we operate.
The Whalen Company is one of America's most innovative leaders in the commercial HVAC industry. As originators of vertical stacked fan coil units and heat pumps, we are committed to offering practical solutions for developers, architects and builders that reduce costs and improve performance.
Our culture is rooted in the history of The Whalen Company. As we look to the future, we continue to focus on Flexibility, Quality, and Service. These values are the pillars of our business. They define who we are and guide every decision we make.
---
FLEXIBILITY

Our flexibility as a company is a key element in remaining an innovator in the industry. Whether it's building codes, energy efficiency mandates, refrigerant choices, or simply project schedules, we are reminded every day that things change.

The Whalen Company adapts to the changing demands of our customers. By continually providing innovative solutions to design requirements – or simply adjusting to changing delivery schedules – we work tirelessly to meet the expectations of our customers with everything we do.

QUALITY

Customer satisfaction and loyalty to our company are the main indicators of our continual commitment to quality. We put our customers' expectations at the center of our activities. By establishing partnerships with our vendors, our representatives, contractors, engineers, and other stakeholders in the construction process, we leverage our expertise to deliver the highest quality product that is tailored specifically for each application.

At the core of The Whalen Company's quality assurance process is a steadfast focus on manufacturing excellence and supply chain optimization – ranging from procurement through shipment, optimized manufacturing processes to keep us current with the latest manufacturing processes, as well as operational learning and development for our workforce.

SERVICE

The heart of every organization is its people. At the Whalen Company, we strive to remain focused on our customers and quickly respond to their needs. Every day we work to provide friendly, knowledgeable and professional communications that inspire, educate and solve problems.

We are committed to excellence in customer service and are constantly evaluating our tools and processes to ensure they are up to date and efficient. We understand our customers work under demanding schedules, and a prompt, accurate response is often the difference in making the sale.