Belt Drive Horizontal & Vertical Units – Overview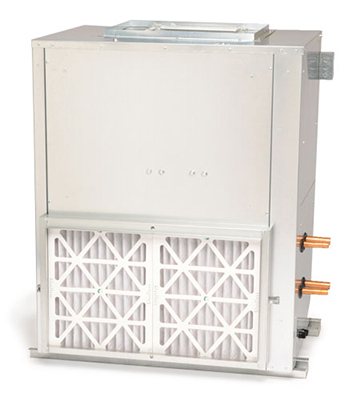 Whalen Horizontal and Vertical Belt Drive Units come in a variety of configurations to meet practically any commercial or institutional system and design requirement.
Whether you need single-wall or double-wall units … hot water, chilled water and/or electric heat … 2-pipe or 4-pipe configurations, the choice is yours!
---
Benefits

How It Works

Technical Data

Literature
Belt Drive Fan Coil Units
The Whalen Company's large capacity belt-drive fan coil units combine cooling, heating, humidity control and filtration with the simplicity of a single, compact fan coil unit with an expanded operating range for even more applications.
These features make the belt-drive fan coils highly desirable for building owners, specifying engineers, and contractors alike.
For Building Owners
By using large capacity belt-drive fan coils, building owners have an economical performance option without the price generally associated with more expensive custom air handling equipment:
Simplicity of maintenance with easy access to the filter, fan, and motor
Quiet unit operation facilitated by large diameter fans and 1" thick insulation
Heavy-gauge steel construction provides for long life of the unit
An optional stainless steel drain pan for superior corrosion resistance
For direct-drive units, multi-speed motors assure optimal power consumption based on desired load, along with fan speed switch unit- or wall-mounted for owner and tenant convenience
For Specifying Engineers
Large capacity fan coils provide great versatility for specifying engineers. Four different models are available with multiple arrangements and configurations:
Coil options include 4- and 6-row primary cooling/ heating coils for 2-pipe systems to provide precise heating and cooling performance for any requirement, with any combination of header connection/motor hand locations
Secondary 2-row coils are offered in the preheat or reheat position for 4-pipe systems
Filtration options include any 2" disposable filter. The standard option is a MERV 3 filter. Special options include MERV 8 and MERV 13 (belt-drive units)
A variety of motor voltages, sizes, and types are offered to best match the project specification
For Contractors
Large capacity fan coils offer a stock program for fast delivery in addition to a number of factory- and field installed features which make installation fast and simple:
Header connections are ready for field piping with or without valve packages
Easy access to all components.
Various motor and drive kits for field installation on stock units
Factory-preassembled valve packages are available
---
A fan coil unit is one of the simplest methods to heat and cool. The basic fan coil system consists of an air coil and a motor-blower assembly.
Whether the unit operates with a free-return, plenum return, or an exposed cabinet, the basic operation of the unit is the same. By passing air from the occupied space across the air coil, heat is added to, or removed from, the air stream as it is supplied back to the occupied space.

---
Coming Soon, Contact Factory
Single Wall Horizontal Air Handler
Single Wall Vertical Air Handler
Double Wall Horizontal Air Handler
---
Sales Brochures
---

Commercial Product Line Brochure


Fan Coil and Air Handling Product Guide

Commercial Product Line Brochure - Fan Coils Only

Belt Drive Air Handler Brochure
Design Guide
---

Design Guide - Coming Soon, Contact Factory
Installation and Operation Manual
---

IOM - Belt Drive Air Handler
Product Specifications
---

Unit Specification - Belt Drive Air Handler
Drawing Files
---