Direct Drive Horizontal & Vertical Units – Overview
Whalen Horizontal and Vertical Direct Drive Units come in a variety of configurations to meet practically any commercial, residential and institutional system and design requirement.
Whether you need concealed or exposed … with or without plenums … hot water, chilled water and/or electric heat … 2-pipe or 4-pipe configurations, the choice is yours!
---
Benefits

How It Works

Technical Data

Literature
Direct Drive Fan Coil Units
The Whalen Company's fan coil units feature a wide range of floor, wall and ceiling models with numerous air flow arrangements that are designed to work within varying space requirements.
From our sales support staff to engineering and manufacturing, we work closely with customers to specify the right combination of products to achieve the ultimate goal: creating the most comfortable and energy-efficient indoor climate possible.
Each robust fan coil design features heavy-gauge materials for long life and years of trouble-free service
Closed cell insulation plus positively sloped drain pans ensure superior indoor air quality
Acoustic and thermal insulation for quiet operation
Lower installed costs
ETL certified units comply with applicable standards for safety and performance
At Whalen, our customers continuously benefit from our tradition of providing safe, high quality systems. The attention to detail we provide, combined with our custom design capabilities, highlight our strength and heritage in the marketplace.
---
A fan coil unit is one of the simplest methods to heat and cool. The basic fan coil system consists of an air coil and a motor-blower assembly.
Whether the unit operates with a free-return, plenum return, or an exposed cabinet, the basic operation of the unit is the same. By passing air from the occupied space across the air coil, heat is added to, or removed from, the air stream as it is supplied back to the occupied space.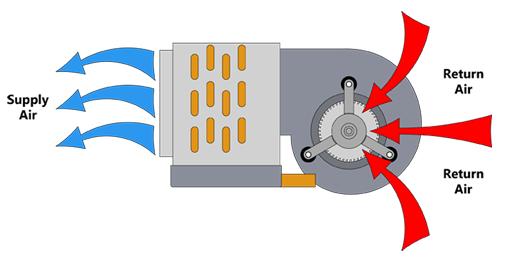 ---
Coming Soon, Contact Factory
Direct Drive Fan Coil with Electric Heat
Direct Drive Fan Coil
High Performance Direct Drive Fan Coil
Direct Drive Fan Coil
Direct Drive Fan Coil
Direct Drive Fan Coil
---
Sales Brochures
---

Commercial Product Line Brochure


Fan Coil and Air Handling Product Guide

Commercial Product Line Brochure - Fan Coils Only

Brochure - Horizontal Fan Coils

Brochure - Hi-Performance Horizontal Fan Coils

Brochure - Hi-Performance Vertical Closet Fan Coils
Design Guides
---

Design Guide - Coming Soon, Contact Factory
Installation and Operation Manuals
---

IOM – Horizontal Fan Coil Units

IOM – Hi-Performance Horizontal Fan Coil Units

IOM – Hi-Performance Vertical Closet Fan Coil Units
Product Specifications
---

Unit Specifications – Horizontal Fan Coils

Unit Specifications – Hi-Performance Horizontal Fan Coils

Unit Specifications – Hi-Performance Vertical Closet Fan Coils
Drawing Files
---

Revit® Drawing – HC Series Horizontal Fan Coil

Revit® Drawing – HP Series Hi-Performance Horizontal Fan Coil

Revit® Drawing – VC Series Hi-Performance Vertial Fan Coil