The Whalen Company Appoints Craig Wanner to Position of President and CEO
FOR IMMEDIATE RELEASE
Evie Sibert
Marketing Manager
The Whalen Company
918-557-5828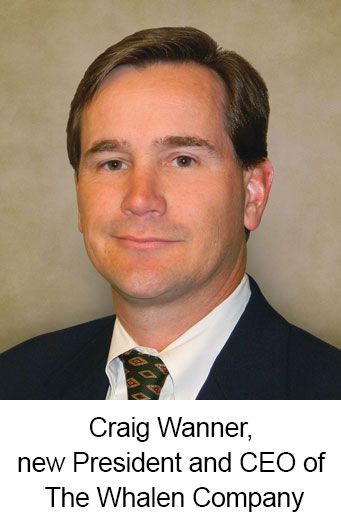 September 8, 2016 – Easton, MD - The Whalen Company announced today the promotion of Craig Wanner to President and CEO. In his 18 years with Whalen, Wanner has held a variety of management positions, most recently Chief Operating Officer.
Thomas Delaney, CEO of Whalen for the past 11 years, will assume the newly created role of Chief Business Development Officer. In this position, Delaney will direct the development of a separate organization focused on complimentary products for specific markets in the United States and Canada. The teamwork of Wanner and Delaney will allow Whalen to focus on each market segment to maximize growth.
"I am truly excited about taking on the task of developing a new market segment for the Company," said Delaney. "I am confident that with the support of our shareholders and Craig's management team, we can create a very profitable division within The Whalen Company in the near term."
It could be said that Wanner is following in his father's footsteps as Ronald Wanner, Craig's father, started at Whalen in 1968 and became CEO in 1995. Ron retired in 2005 and held the position of Chairman of the Board until his passing in 2014.
"Ever since I was a little kid walking around the plant with my dad, I have always wanted to work for Whalen," said Wanner. "I could always see the pride that he had in his eyes when he talked about the company and everyone he worked with. I feel the same way now. To see how far we have come since 1962 and knowing the potential we have going forward is very exciting. To be a part of The Whalen Company is really a dream come true."
"We have the clear opportunity to capture an important segment in the HVAC market for new construction in North America," said Wanner. "The board has directed me to spearhead the expansion of our manufacturing facilities, our engineering capabilities, and our presence in the new construction marketplace."
In 1998, Wanner started at Whalen in the role of Human Resources Manager and was promoted to IT Manager in 2002. In 2006 Wanner became the Material Planner and later held the role of Operations Manager. In 2014, Wanner was promoted to Vice President of Operations and then became Chief Operating Officer the following year. In his expanded leadership role as President and CEO, Wanner will focus on building a first-class management team and position the company for long-term growth.
About The Whalen Company
Founded in 1962, The Whalen Company supplies HVAC equipment and systems that are found in thousands of installations including offices, hotels, condominiums, apartments, nursing care and senior living facilities, as well as classrooms and dormitories.
Whalen products are distinctive in concept, performance, reliability and energy efficiency, thereby delivering a "perfect fit" solution for customers. In addition to their popularity in new construction projects, they are highly suited for renovation or equipment replacement projects completed in less time and at lower cost.
For more information about The Whalen Company and its product line, including resources such as technical data, engineering drawings and digital equipment selection software, visit www.whalencompany.com.