The Whalen Company Recognized for Positive Community Impact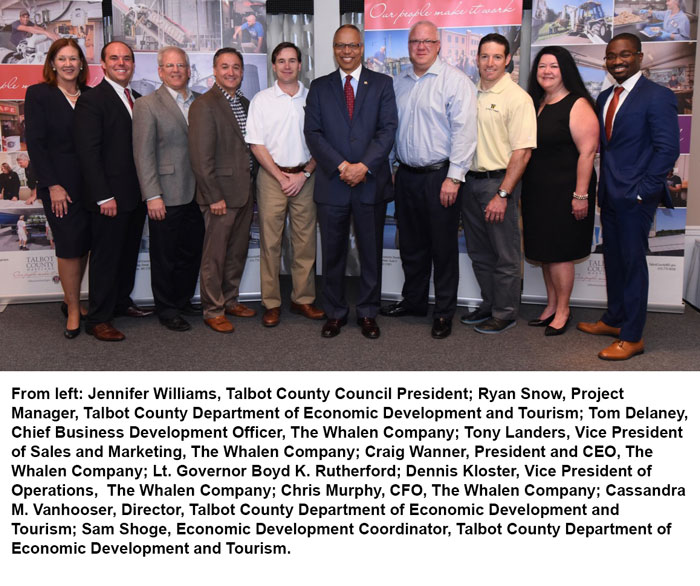 April 21, 2017 – The Whalen Company was commended for making a difference in the Talbot County (Maryland) community at the Talbot County Business Appreciation Breakfast.
This year's Business Appreciation Breakfast awards reflected a Community Impact theme and the many ways that a company can impact a community through work.
"One can judge a company on the products or services they create, but one could also judge a company on the impact their people have on their community," said Talbot County Economic Development Coordinator Sam Shoge at the breakfast.
A company can be recognized as an industry leader, or it may deliver a vital service that is needed in the region, Shoge said. Other companies make a commitment to a location and its people by growing a business over time and investing in the region's human capital. Still others gather talented minds together and build a company that supports an industry that is very near and dear to the region's heart.
For these reasons, the Economic Development Commission broadened the awards category to nominate and vote for businesses and individuals they identified as having made an impact on the Talbot County community.
Shoge recognized Whalen as a pioneering manufacturer in the HVAC industry for a variety of multi-story buildings. Whalen has been headquartered in Easton, Maryland since 1979 and expanded from 40,000 square feet to 93,000 in 2005.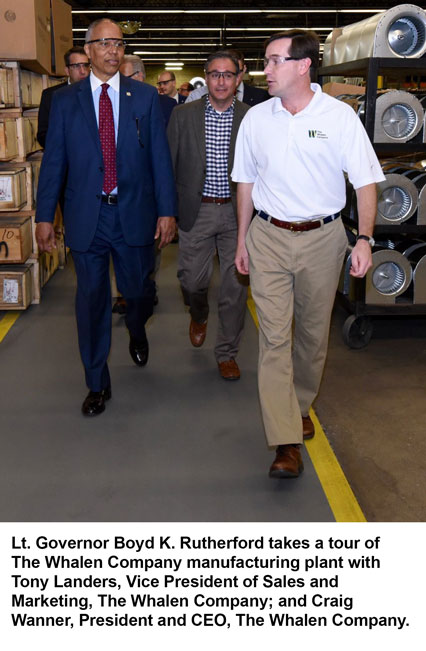 Whalen continued expanding when it purchased a building across the street from its headquarters in 2016 to house the aftermarket hvac parts division. The company recently expanded another 53,000 to manufacture packaged water-source heat pumps.
"It's a great feeling for everybody on the whole team," said Craig Wanner, Whalen President and CEO, about winning the award. "We've all worked very hard to grow the business and take advantage of opportunities and be recognized. Everybody here has families in the community and we're a family business, so it's important to give back." Wanner said the company does everything it can to support charities and the community.
After speaking at the breakfast, Maryland Lt. Gov. Boyd Rutherford received a tour of the Whalen manufacturing plant in Easton.
About The Whalen Company
Founded in 1962, The Whalen Company supplies HVAC equipment and systems that are found in thousands of installations including offices, hotels, condominiums, apartments, nursing care and senior living facilities, as well as classrooms and dormitories.
Whalen fan coil and heat pump products are distinctive in concept, performance, reliability and energy efficiency, thereby delivering a "perfect fit" solution for customers. In addition to their popularity in new construction projects, they are highly suited for renovation or equipment replacement projects completed in less time and at lower cost.