The Whalen Company Investing in Affordable Home Ownership
Easton, Md., June 10, 2016 –The Whalen Company, a pioneering manufacturer of HVAC vertical stack riser heat-exchanger fan coil units and water-source heat pumps, is investing in affordable home ownership in Talbot County through a partnership with Habitat for Humanity Choptank.
While working with clients around the United States, our family, friends and community are important to The Whalen Company. With a team of over a one hundred employees and counting as the company is currently expanding, value is placed on having the right individuals in place at the right time with the right skills in order to achieve the company mission.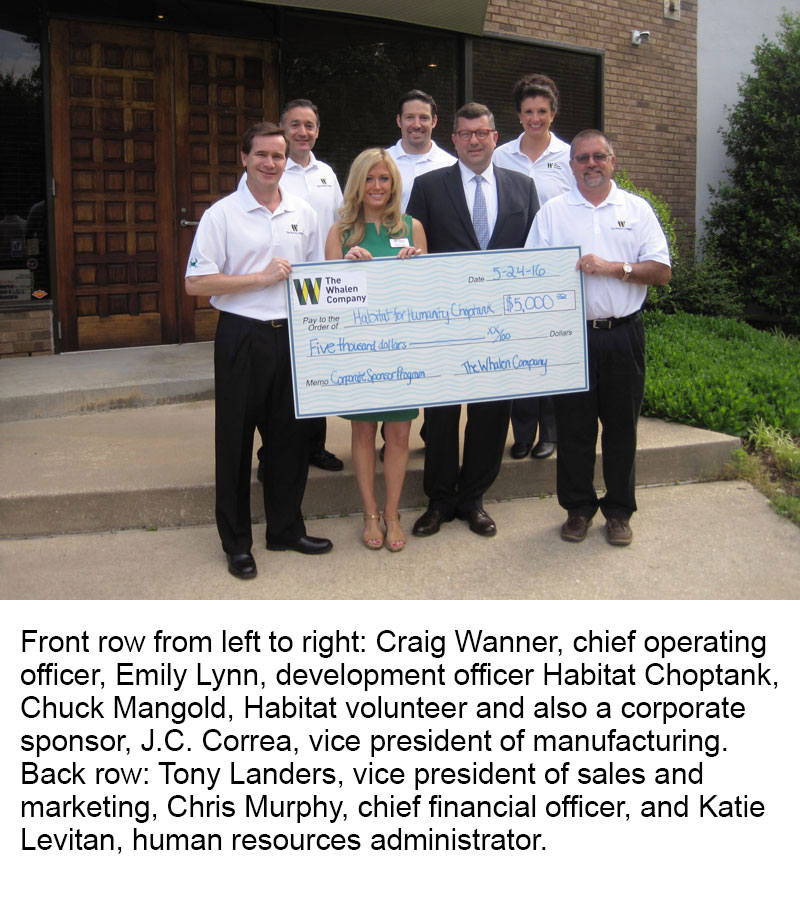 "Partnering with Habitat Choptank gives us an opportunity to demonstrate our commitment to our employees and the community we call home," said Craig Wanner, chief operating officer. "Through employee build days, home buyer recruitment workshops, and other Habitat events, we are encouraging our team members to seek life-changing opportunities while connecting with their colleagues." Company build days on the construction sites will enable employees to use their talents and time outside of the workplace to help build sustainable homes and more stable neighborhoods.
Recognizing the importance of affordable home ownership for both its employees and the community as a whole, The Whalen Company has generously stepped forward with a lead contribution for Habitat's new corporate giving program. "The heart of every organization is its people," said Wanner. "With this being our home, we want to give back where we live and work." The idea to partner with Habitat came through one of Whalen's employees, Cecilia Chavez, who recently purchased her first home with an affordable mortgage through Habitat's home ownership program.
As of July 1, 2015, Habitat Choptank is moving forward with a new strategic plan to expand its mission. The plan, which was developed over a period of two years with input from over 100 citizens, recognizes that quality, energy efficient, affordable housing is a fundamental matter for residents and for neighborhoods. It will run through 2019 and is aimed at expanding the organization's impact through increased home production. The goal is to grow from four homes built or rehabbed a year to eight.
"Increasing the numbers of homes completed each year means increasing every resource: more volunteers, home buyers, land, and funding," said Emily Lynn, development officer for Habitat Choptank. The nonprofit home builder has launched a corporate sponsor program in order to give business partners a way to actively participate in the Habitat mission and be recognized for their investment in this revitalization work around the Choptank region. Benefits of corporate sponsorship include alignment with a strong, trusted non-profit brand, recognition in marketing materials and on construction sites, employee team building opportunities with volunteer build days, and participation in home dedications and other key Habitat events.
About The Whalen Company
Founded in 1962, The Whalen Company supplies HVAC equipment and systems that are found in thousands of installations including offices, hotels, condominiums, apartments, nursing care and senior living facilities, as well as classrooms and dormitories.
Whalen products are distinctive in concept, performance, reliability and energy efficiency, thereby delivering a "perfect fit" solution for customers. In addition to their popularity in new construction projects, they are highly suited for renovation or equipment replacement projects completed in less time and at lower cost.
For more information about The Whalen Company and its product line, including resources such as technical data, engineering drawings and digital equipment selection software, visit www.whalencompany.com.
About Habitat for Humanity Choptank
Habitat for Humanity Choptank, an affiliate of "Habitat International", is a nonprofit organization operated on Christian principles that seeks to put God's love into action by building homes, communities and hope.
Through financial coaching, education and support, and access to affordable financing, Habitat Choptank provides an opportunity for individuals and families in our communities to purchase a quality constructed, energy efficient, affordable home. Home ownership with Habitat Choptank creates a solid foundation for our hardworking neighbors on which to build their lives. Through Habitat Choptank, lives are changed, neighborhoods are revitalized, our community property tax revenue is enhanced, and we keep a solid workforce in our area.
###
Image Caption:
The Whalen Company is investing in affordable housing with a lead contribution to Habitat Choptank's corporate giving program. Front row from left to right: Craig Wanner, chief operating officer, Emily Lynn, development officer Habitat Choptank, Chuck Mangold, Habitat volunteer and also a corporate sponsor, J.C. Correa, vice president of manufacturing. Back row: Tony Landers, vice president of sales and marketing, Chris Murphy, chief financial officer, and Katie Levitan, human resources administrator.