The Whalen Company Introduces the Closetline® CAS Series
FOR IMMEDIATE RELEASE
Evie Sibert
Marketing Manager
The Whalen Company
918-557-5828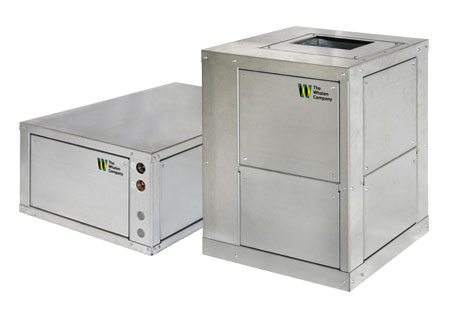 Easton, Md., January 14, 2018 – The Whalen Company, a pioneering manufacturer of HVAC vertical stack riser heat-exchanger fan coil units and water-source heat pumps, announces the launch of its new Closetline® CAS Packaged Heat Pump.

The Closetline® CAS Packaged Heat Pump capacities range from 0.5-ton to 5.0-ton with 13.5 or 17.0 EER at WLHP conditions in a compact cabinet designed for ease of service. Horizontal units can be serviced through the unit bottom to virtually eliminate removing ceiling units. With optional hot gas reheat for temperature and humidity control, as well as hybrid heating and cooling, the CAS Series has flexibility over a wide range of applications.
"The introduction of our CAS Series packaged water source heat pumps is an exciting chapter in the history of Whalen," said Tony Landers, VP of Sales and Marketing at The Whalen Company. "Having built vertical stack heat pumps since the early 70's, it is a natural expansion of our product portfolio that will expand even further. We have made significant investments in our corporate structure to support this expansion with increased staffing levels and additional physical facilities."
The CAS series far exceeds the ASHRAE 90.1 minimum efficiency and utilizes environmentally friendly R-410A refrigerant to reduce operating costs without compromising the environment. These compact units are popular in a variety of building applications where quiet operation in a compact footprint is a key requirement. The CAS is advantageous for new construction or renovation of apartments, condominiums, hotels, senior living facilities, dormitories and office buildings.

"We have taken the Whalen heritage of quality and innovation and infused it into our CAS Series," said
Landers. "Most compact units are viewed as cheap entry-level units. However, the CAS Series is far from entry-level. We have spent a lot of effort to ensure the units are easy to assemble to have a quality, reputable product, service friendly with multiple access panels on the sides and bottom,and quiet, reliable operation for the end-user to meet the demands of everyone in the product lifecycle. With a long list of standard features and options on the CAS Series, low cost does not mean stripped down."
About The Whalen Company
Founded in 1962, The Whalen Company supplies HVAC equipment and systems that are found in thousands of installations including offices, hotels, condominiums, apartments, nursing care and senior living facilities, as well as classrooms and dormitories.
Whalen products are distinctive in concept, performance, reliability and energy efficiency, thereby delivering a "perfect fit" solution for customers. In addition to their popularity in new construction projects, they are highly suited for renovation or equipment replacement projects completed in less time and at lower cost.
For more information about The Whalen Company and its product line, including resources such as technical data, engineering drawings and digital equipment selection software, visit www.whalencompany.com.