Whalen Employees Help Build Local Home
Aug. 27, 2016 – Twelve Whalen employees spent their Saturday building a home in the nearby town of Cambridge, Md. The Whalen Company partnered with Habitat for Humanity Choptank to help build sustainable homes and more stable neighborhoods.
Whalen employees began work in the morning and painted the home's exterior and interior. While it was a very hot day to work, it was time well spent.
"I think we got more paint on ourselves than the house," said Craig Wanner, Whalen President and CEO. "We met the new owner who also happens to be the sister of one of our fellow employees. That made us feel great about being part of her dream of home ownership".
This is just the first home that Whalen will help build, as the company plans to hold Habitat build days several times each year. In June, Whalen made a lead contribution for Habitat's new corporate giving program.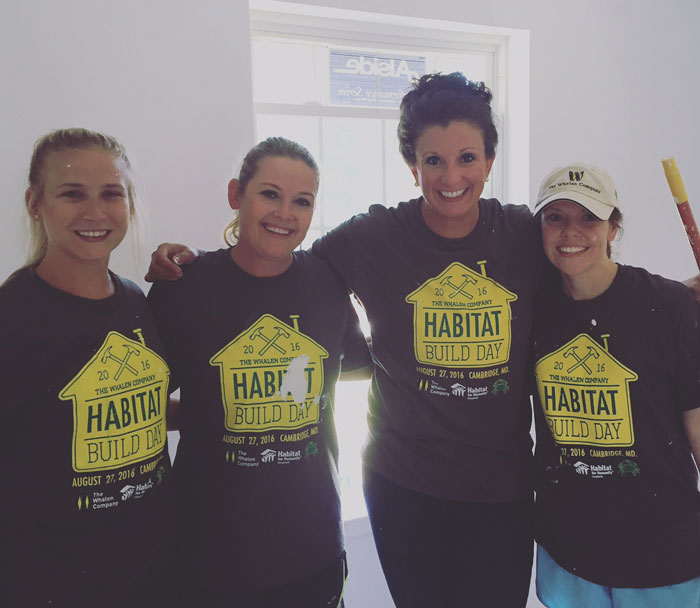 About The Whalen Company
Founded in 1962, The Whalen Company supplies HVAC equipment and systems that are found in thousands of installations including offices, hotels, condominiums, apartments, nursing care and senior living facilities, as well as classrooms and dormitories.
Whalen fan coil and heat pump products are distinctive in concept, performance, reliability and energy efficiency, thereby delivering a "perfect fit" solution for customers. In addition to their popularity in new construction projects, they are highly suited for renovation or equipment replacement projects completed in less time and at lower cost.